WE ARE NOT ACCEPTING NEW MEMBERSHIPS AT THIS TIME.
Please check back with us and follow us on social media to see when new memberships are available as we work to add new features to the site.
We hope that you will also understand that we are still fixing some features since recent major changes to our web hosting.
Thank you for your interest and understanding!
How To Immortalize Your Ultrarunning Race Results
People Want To Know
People are curious to know:

How many miles of races have you done?

How much crewing and volunteering experience do you have?

Are you someone I would feel honored to crew or pace?

Are you someone I would want to ask to crew or pace me, in this or that race?

Are you someone I would feel privileged just to hang out and chat with, every chance I get?
PEOPLE WANT TO GET TO KNOW YOU!
Because it's a well-known fact:
People tend to want to run and hang out with the most experienced and accomplished members of the community!
The fact is even YOU may not know how many miles you've raced or how many hours you've crewed.
And if even YOU don't know, how is anyone else going to understand and appreciate all your experience and everything you've learned, all the wisdom and help and insight you have to offer:
As a race director or staff
As a crew member, volunteer, or pacer
As a friend and comrade they may want to just hang out with!
UltraRunning Legends has changed the game!
With an UltraRunning Legends profile, you can now:
Get recognized for your hard work without bragging
Have your advice and ideas appreciated based on your experience
Have a link to display on other social media or sites, a link people can click to view your complete ultra resumé
Get exclusive access to peruse all the details, history, product recommendations, and biographical details in other UltraRunning Legends member profiles
Get invited to participate in the groups of athletes you're qualified to join
Get the pacers and crew you want – NEAR YOUR RACE LOCATION, if you wish – AND get asked to crew and pace runners you want to work with
… and much, MUCH more!
I am Sharla Simpson,
and a co-creator of UltraRunning Legends, the FIRST EVER Marathon Maniacs-type web site for ultrarunners, and our mission is:
To allow you to list ALL your stats
To allow you to list your bio and non-running information
To help the ultrarunning community get to know each other and work with each other in a way that has previously not been possible!
For just $99.95 per year:
Display a comprehensive list of all your racing and work
Be appreciated for all your contributions to the sport
Have your advice, ideas, and experience properly valued
And so much more!
CLICK HERE to view a public profile for yourself!
FOR THE FIRST TIME EVER, for less than the price of entering a single ultra, you can list
ALL your ultras, from all race result web sites and even magazine print
ALL your crewing details and experience, and even
Any races you've directed
ALL totals of race mileage, volunteer hours, and races directed, automatically calculated for you!
In addition, I am actively soliciting user feedback to add valuable features every year to your profile page and to the web site, to make it easier for people to list their achievements and race experiences, as well as get in touch with potential crew members, race directors, and friends. If you can think of it, I would like to try to make it happen.
LOOK AT PROFILES OF PEOPLE WHO HAVE ALREADY JOINED!!!
… and this is only a small sample.  You can find the rest by
clicking here
!
BONUS:
Our paid memberships all but guarantee a troll-free AND ad-free environment in our activity feed and groups. Who has time for drama with trolls? NOT US!
You will also soon have access to purchasing apparel with your badge level on it, whether you're a runner, an RD, or one of our super-important Enabler volunteers.  As the web site standards become known to people, they will be able to look at your logo gear and know at a glance what kind of experience you have in the sport!
14-DAY SATISFACTION GUARANTEE!  You will have 14 days from the time you join to request a refund for your membership cost (minus $30.00 for your shirt) if you are not fully satisfied with your experience building your UltraRunning Legends profile!
* Please note that we will not be accepting returns on the shirts members receive with their membership when they join.  If you join with a discounted membership price, you will be refunded according to your cost at the time of joining.
Let's face it: you obviously have a passion for ultras, and WE have a passion for helping people connect in the sport!  Come join us now, and let's grow a more efficient, tight-knit community!
Join us now and get your free eye-catching, soft and comfy tri-blend UltraRunning Legends shirt! Available only with full-priced (non-discounted) payment for a first-year full-access membership OR with the purchase of a non-discounted lifetime membership.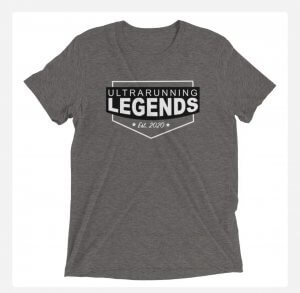 Get Onboard With UltraRunning Legends Now!
UltraRunning Legends gives badges for verified race credentials in three different race roles:
Enablers, the people who volunteer to help ultrarunners and race directors
Kingpins, the people who direct ultra races
Ultrarunners, with six different levels of achievement possible
These levels are mutually exclusive, and achievement is recognized for all three roles.  Ultrarunners are the only role with multiple levels of achievement and experience, but ALL roles are UltraRunning Legends!